Seeing the Bigger Picture – Understanding Emerging Markets
Cleary Gottlieb provides an overview on some of the world's most dynamic investment jurisdictions
June 7, 2019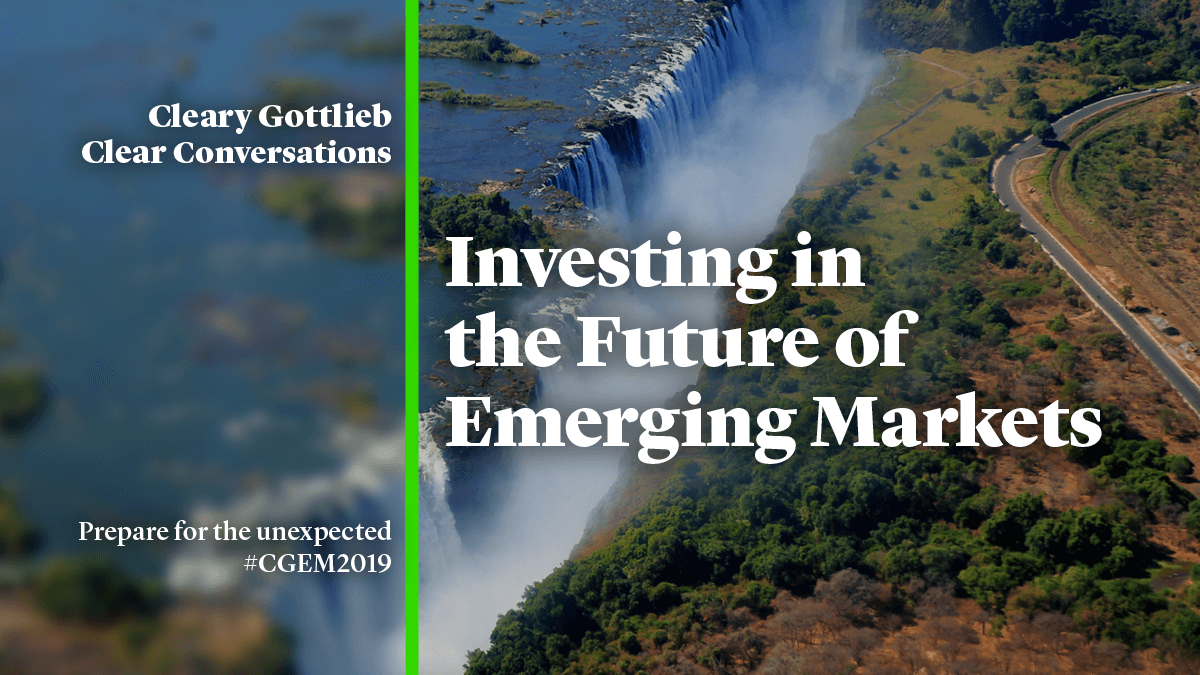 There's been a dramatic evolution in emerging markets since the term was first coined nearly 40 years ago. In fact, so pronounced is the change that the debate as to whether the term even applies anymore has been bubbling for over a decade.
Read insights from former BP CEO Lord Browne of Madingley about Investing in the Future of Emerging Markets.
The label was originally created to describe frontier markets which displayed the distinct potential to become developed markets. Over the years, it's also become a catch-all reference to nations under the now-retired 'developing countries' moniker. Many of these markets now outperform so-called developed economies and it is estimated that the MSCI Emerging Market index now represents 13% of the world's total market capitalization.
But what defines an emerging market is only one piece of an enormously complex puzzle. When it comes to actually leveraging the opportunities these jurisdictions present, investors can be faced with a bewildering array of volatile considerations, from the socio-political through to the legal and the cultural – and that's when territories are stable.
A Shifting Landscape: A Year of Disruption
However, the last year alone has seen unprecedented political change. From elections to uprisings, many jurisdictions in emerging markets are going through upheavals. It's enough to give investors cold feet but it also obscures the fact that exciting opportunities remain for those who have the right partners.
According to Cleary Gottlieb partner Tihir Sarkar, "When an established order is being overturned and becoming something utterly new or unexpected, that's where decades of on-the-ground experience, cultural understanding and long-standing networks really make a difference."
The firm has worked for decades in the most challenging of markets, earning a track record of dealing with some of the world's most complicated cross border cases. A 'one firm' structure allows Cleary Gottlieb to provide seamless coverage across various locations, with a special focus on leveraging deep knowledge of the local environment. This enables a flexible approach to sometimes seemingly impenetrable political, regulatory and business frameworks.
Avoiding the Pitfalls
For example, it's unfortunately taken as a given that corruption is par for the course when investing in emerging markets. A spate of recent scandals has only strengthened this perception.
In Malaysia, the 1MBD state fund has become the centre of one of the world's largest corruption scandals, with over $4.5 billion believed to have been stolen and siphoned into foreign accounts.
There has also been the issues around of Abraaj, the largest private equity firm dedicated to developing economies.
"These kinds of events are significant but they're certainly not new difficulties in these markets," says Tihir. "And they're challenges that we're well positioned to handle because we've been managing them and supporting clients through them for years, whether you're talking about, for example, sovereigns, mergers and acquisitions, bankruptcy, arbitration or restructuring."
Opportunity through Partnership
Yes, commodity prices and the MSCI may be down year on year, but a clear sign that emerging markets have developed is that they are no longer completely dependent on such factors. There continue to be numerous opportunities to be had in these regions. After all, the demographics in emerging markets are now heavily skewed towards youth, giving them a dynamism, energy and optimism often lacking in other developed regions. At the same time, rapidly expanding internet access is opening up these markets like never before, making it easier than ever for investors to set up and monitor operations.
With decades of experience and a track record of dealing with some of the world's most complicated cross-border cases, Cleary Gottlieb offers access to the right people, knowledge of the most effective processes and a commitment to unleashing all the potential these territories offer.