Cleary Gottlieb Elects 15 New Partners and Counsel
October 29, 2018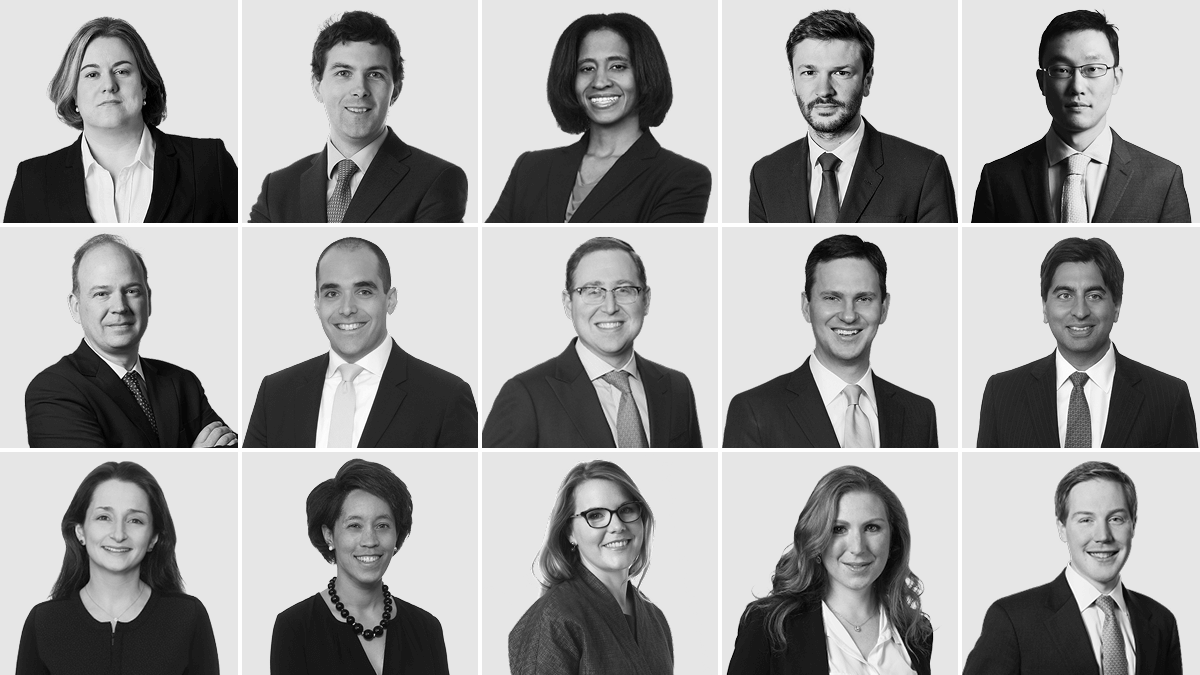 Cleary Gottlieb has elected eight partners and seven counsel, effective January 1, 2019.
The elections will bring the firm's total worldwide partners to 196 and counsel to 65.
"I am delighted to welcome our new global partners and counsel to senior positions in our firm," said Cleary Gottlieb Managing Partner Michael Gerstenzang. "This accomplished group of lawyers embodies our commitment to delivering the highest level of client service around the globe. They reflect the strength of our practice, the diversity of our talent, and the richness of our culture."
The new partners and counsel are resident in the firm's Beijing, Cologne, London, New York, Paris, and Washington, D.C. offices. Their expansive range of practice areas includes antitrust, corporate advisory, employee compensation and benefits, leveraged and acquisition finance, litigation and arbitration, private funds, real estate, structured finance, and tax.
The new partners and counsel are:
Katharina Apel, counsel, focuses on German and European competition law. She is resident in the Cologne office. Katharina's experience includes advising The Walt Disney Company and 21st Century Fox on competition matters related to Disney's $52.4 billion acquisition of 21st Century Fox assets; Yageo Corporation on the competition aspects of its acquisition of Pulse Electronics Corporation from affiliates of Oaktree Capital and other shareholders; and Lavazza in merger control proceedings concerning its acquisition of Mars Drinks. She has also advised The Dow Chemical Company in its merger of equals with DuPont; and Baxter International in EU merger control proceedings with respect to the acquisition of Gambro. She is currently representing Deutsche Telekom in a case before the General Court of the European Union. Katharina joined the firm in 2009. From 2013 to 2014, she was resident in the Brussels office.
James Brady, partner, focuses on litigation, arbitration, and enforcement. He is resident in the London office. James has significant experience advising on complex and substantial cross-border commercial and banking disputes, and investigations by regulatory and other law enforcement authorities, including the UK Financial Conduct Authority, the Prudential Regulation Authority, and the Serious Fraud Office. He has represented Goldman Sachs in connection with the Waterfall II litigation arising from the administration of Lehman Brothers International Europe; one of the world's leading mineral resources companies on arbitration and associated High Court litigation claims concerning alleged bribery, corruption, and fraud against a joint venture partner; a syndicate of international oil producers in an arbitration and related High Court proceedings against an oil trader in respect of Peruvian assets; former directors of a publicly listed company based in Kazakhstan in a major dispute arising out of claims that hundreds of millions of dollars were misappropriated, involving proceedings before the courts in England, the U.S., Switzerland, and Cyprus; a Kazakh businessman in successfully resisting fraud claims brought by a bank; a shareholder of McLaren Technology Group in a dispute with another shareholder, including successfully resisting an application for an injunction; and a leading online consumer products business in a successful High Court claim against a competitor for trademark infringement caused by Google AdWords bidding. James joined the firm in 2014.
Alexis Collins, partner, focuses on complex civil litigation as well as criminal and regulatory enforcement matters. She is resident in the Washington, D.C. office. Alexis has advised Petrobras in securities class action litigation; BNP Paribas in obtaining dismissals of lawsuits alleging claims under the Anti-Terrorism Act; Robert Bosch in RICO class actions; and various clients in antitrust class actions. She has also provided counsel on cybersecurity incident response for senior management at multinational companies. Alexis first joined the firm in 2001. In 2003, she joined the U.S. Department of Justice, where she served in numerous positions for more than a decade, primarily focusing on prosecuting federal international criminal terrorism cases. Most recently, she was a Deputy Chief of the Counterterrorism Section of the National Security Division, and was previously an Assistant U.S. Attorney in the Eastern District of New York and Counsel to the Assistant Attorney General for National Security. She returned to the firm as a senior attorney in 2015.
Frédéric de Bure, partner, focuses on EU and French competition law, including merger control, cartel investigations, market dominance cases, and related litigation matters. He is resident in the Paris office. Frédéric has advised clients in complex merger control cases before the European Commission and the French Competition Authority, and represented clients in a number of international cartel/dominance investigations. He has advised Airbus in a wide range of matters, including the acquisition of the commercial aircraft division of Bombardier and the purchase of Arianespace, Europe's space launch services provider, by Airbus Safran Launchers (now Arianegroup); Hachette Livre in the context of the European Commission's investigation into "most favored nation" clauses and Amazon's e-book distribution deals with various publishers; and Google in the context of several abuse of dominance cases before the French Competition Authority. He has also represented Lagardère before the European Court of Justice in the litigation against rival publisher Odile Jacob to secure the acquisition of Vivendi Universal Publishing. Frédéric joined the firm in 2003 and became counsel in 2012. From 2003 to 2008, he was resident in the Brussels office.
Tian Gao, counsel, focuses on corporate and financial transactions and has represented a range of international corporations and private equity firms. He is resident in the Beijing office. Tian has advised TPG on a number of deals, including the sale of its interest in China Grand Automotive Services Co. and its participation in the take private transaction of Chindex. He has also advised Temasek as a member of the buyer consortium in the approximately $3.5 billion going private transaction of WuXi PharmaTech (Cayman) Inc.; the Board of Directors and Special Committee of the Board of National Financial Partners Corp. (NFP) in the $1.3 billion acquisition of NFP by affiliates of Madison Dearborn Partners; Sony in its $380 million acquisition of Gaikai Inc.; Google in its $12.5 billion acquisition of Motorola Mobility, which included Motorola's 17,000 patents; and Grupo Cementos de Chihuahua in a $510 million refinancing, consisting of a high-yield senior notes offering and a dual-tranche syndicated term loan facility. Tian joined the firm in 2010. Until 2014, he was resident in the New York office.
Jonathan (J.J.) Gifford, counsel, focuses on U.S. federal income tax controversies, M&A transactions, and corporate and partnership planning. He is resident in the New York office. The public M&A transactions J.J. has advised on include Suntory's $16 billion acquisition of Beam; McDonald's strategic partnership to expand in mainland China and Hong Kong; OpenText's acquisitions of Dell EMC's Enterprise Content Division and Guidance Software, Inc.; HCA Healthcare's $2 billion August 2018 notes offering; and OCI's aborted $8 billion combination with CF Industries. His partnership tax planning work includes advising TPG in the formation of various private equity funds. J.J. served as a clerk to current U.S. Supreme Court Justice Sonia Sotomayor at the U.S. Court of Appeals for the Second Circuit from 2008-2009 and to Judge Carol Bagley Amon at the U.S. Federal District Court for the Eastern District of New York from 2005-2006. He joined the firm in 2006 and has been a senior attorney since 2013.
Maurice Gindi, partner, focuses on the organization and operation of private investment funds. He is resident in the New York office. Maurice's experience covers a broad array of private fund strategies, including leveraged buyout, special situations, growth equity, and real estate funds, as well as hedge and "hybrid" funds. He also represents limited partners in connection with their investments in private funds. His representations have included TPG in a wide range of fund matters, including the formation and operation of a number of its private equity, growth, and special situations funds, such as TPG Partners VIII, The Rise Fund, TPG Growth IV, and TSSP Opportunities Partners III, and in various co-investment arrangements; Angelo, Gordon & Co. in multiple real estate fund formation projects, including AG Europe Realty Fund; Blackstone Alternative Asset Management in the formation of separately managed accounts; and Viking Global Investors in its formation of the Viking Global Opportunities fund platform. Maurice joined the firm in 2009.
Joseph Lanzkron, partner, focuses on real estate, corporate, and financial transactions. He is resident in the New York office. Joseph regularly advises high-profile clients on complex real estate acquisitions, dispositions, and joint ventures. He also represents both borrowers and lenders in various mortgage and mezzanine financing transactions across multiple property types, including both securitized and balance sheet loans. Joseph's experience includes representing various lenders to Blackstone in the financing of its multibillion-dollar acquisition of Strategic Hotels & Resorts and in a $1.02 billion mortgage loan, secured by the Willis Tower in Chicago; and a Mexican bank, as lender, in numerous bridge and mortgage loan financings of luxury multi-family, hotel, and mixed-use projects. He has also represented one of the world's largest sovereign wealth funds in the acquisitions of Class A office buildings across the U.S.; an investment fund in connection with over $1 billion in financings of retail assets; Brookfield Asset Management in multiple acquisitions and financings; and Goldman Sachs as financial advisor to NorthStar Asset Management Group in its $58 billion combination with Colony Capital and NorthStar Realty Finance to create a real estate and investment management platform. Joseph joined the firm in 2009.
Larry Malm, counsel, focuses on antitrust litigation. He is resident in the Washington, D.C. office. Larry has worked on high-stakes civil cases involving all aspects of antitrust law, including complex monopolization, restraint of trade, and price-fixing issues. He has advised domestic and international clients in a range of industries on every stage of a complex antitrust litigation, including preliminary injunctions, motions to dismiss, discovery, summary judgment, class certification, trial, appeal, and settlement. Larry has recently represented Sabre Holdings in monopolization litigation by US Airways and American Airlines challenging non-discrimination provisions in Sabre's agreements to distribute flights and fares through Sabre's computerized reservation system; Keurig in defeating a preliminary injunction motion challenging "technological tying" of disposables with Keurig's 2.0 brewer; Teladoc in winning a landmark preliminary injunction against the Texas Medical Board; and several clients in criminal and civil proceedings related to allegations of price fixing. During law school he worked full-time at a Washington think tank on U.S. foreign policy issues. Larry joined the firm in 2010.
Rahul Mukhi, partner, focuses on criminal, securities, and other enforcement and regulatory matters as well as on complex commercial litigation. He is resident in the New York office. Rahul joined the firm in 2005. From 2010 to 2016, Rahul worked in the U.S. Attorney's Office for the Southern District of New York as an Assistant U.S. Attorney. He was a lead prosecutor on significant cases involving public and international corruption, financial and tax fraud, money laundering, cybercrime, and cross-border organized crime. During his tenure, Rahul was responsible for some of the office's most high-profile matters and received the Attorney General's Award for Distinguished Service. He tried 10 jury trials and has briefed and argued numerous appeals before the U.S. Court of Appeals for the Second Circuit Court of Appeals. Rahul rejoined the firm as counsel in 2016. Both before and after his time at the U.S. Attorney's Office, he has represented numerous corporations and individuals in connection with government and regulatory investigations and high-stakes litigation, including most recently National Amusements and Shari Redstone in litigation against CBS in the Delaware Court of Chancery, and Petrobras in securities fraud class action litigation and numerous individual actions in the U.S. District Court for the Southern District of New York.
Susanna Parker, counsel, focuses on tax matters, particularly with respect to private equity fund formation. She is resident in the New York office. Susanna frequently advises leading global private equity investment firms such as TPG, The Raine Group, Angelo, Gordon & Co., and Cascade Investment. She has also provided tax advice on a variety of large M&A transactions, including 3M's sale of its Communication Markets Division to Corning; SABMiller's $100 billion merger with AB InBev; General Motors' sale of its Opel/Vauxhall subsidiary and GM Financial's European operations to PSA Group; Actavis in the $70.5 billion combination of Allergan and Actavis; and Triton Container International's merger with TAL International Group. From 2001 to 2006, she worked in investment banking and venture capital evaluating investment opportunities. Susanna joined the firm in 2009.
Katherine Reaves, partner, focuses on debt financing transactions. She is resident in the New York office. Katie frequently represents financial sponsors and corporate clients in connection with a variety of corporate finance and cross-border transactions, including acquisition financings, private equity investments, bank and bond financings, and refinancings. She recently represented Honeywell International in the credit facility and bond financings related to its spin-off of Garrett Motion; Cushman & Wakefield in its new $3.51 billion credit facility after its initial public offering; General Mills in the financing for its $8 billion acquisition of Blue Buffalo Pet Products; McCormick & Company in the financing for its $4.2 billion acquisition of Reckitt Benckiser's food division; Consolidated Precision Products in the refinancing of its credit facilities and the financing for its acquisition of Selmet; Ports America Group in the refinancing of its credit facilities; Honeywell International in its revolving credit facility; Alphabet in its revolving credit facility; and Endurance International Group in its $1.1 billion acquisition of Constant Contact. Katie also represented TPG, PAG, and the Ontario Teachers' Pension Plan in the financing for their acquisition of DTZ, and subsequently in DTZ's acquisitions of Cassidy Turley and Cushman & Wakefield; TPG in the financing for its acquisition of Envision Pharmaceuticals, and Envision Pharmaceuticals in its subsequent $2 billion sale to Rite Aid; Warburg Pincus in the financing for its investment in Sotera Health; and Brookfield Asset Management and Capital Automotive in the refinancing of Capital Automotive's first-lien and second-lien credit facilities. Katie joined the firm in 2010.
Melissa Reid, counsel, focuses on management incentives and employment law. She is resident in the London office. Melissa advises corporate, financial, and investment fund clients on transaction-related issues as well as in a broad range of standalone advisory matters, including senior executive appointments and exits and regulatory remuneration rules. She has particular experience in designing and implementing management equity incentive plans, both for private equity clients and corporates. She has represented General Motors on cross-border pensions and UK employment aspects of the sale of its Opel and Vauxhall businesses along with the GM Financial European automotive financing operations; American Express on the employment aspects of the formation of a 50/50 joint venture of its Global Business Travel division; Warburg Pincus and General Atlantic on employment aspects of their joint acquisition of a 50 percent stake in Santander Asset Management; The Coca-Cola Company on the employment and incentives aspects of the combination of Coca-Cola Enterprises, Coca-Cola Iberian Partners, and Coca-Cola Erfrischungsgetränke to create the world's largest independent bottler of Coca-Cola products; and Bank of America Merrill Lynch on the employment aspects of the sale of its non-U.S. wealth management business to Julius Baer Group. Melissa joined the firm as a trainee solicitor in 2007.
Séverine Schrameck, partner, focuses on EU and French competition law and has experience in French public law. She is resident in the Paris office. Séverine has advised clients in several complex merger control and behavioral cases before the European Commission and the French Competition Authority. She represented Essilor in its €46 billion combination with Luxottica, where Cleary acted as global and European antitrust counsel. Séverine also represented Total in its €2.5 billion acquisition of Direct Énergie and its €950 million acquisition of Saft Groupe. She has also advised Bridgepoint in the combination between MédiPôle Partenaires (a Bridgepoint portfolio company) and Elsan; Valeo in the context of the European Commission's investigations into thermal systems; and Lavazza in its €600 million acquisition of French coffee brand Carte Noire and related assets from Koninklijke Douwe Egberts. She advised the French State with respect to the partnerships between GE and Alstom concerning Alstom's Energy and Grid businesses and the potential acquisition by the French State of 20 percent of the company's share capital from Bouygues. Séverine joined the firm in 2012.
Beau Sterling, counsel, focuses on corporate and financial transactions. He is resident in the Washington, D.C. office. Beau concentrates on mortgage-backed securities transactions, CLOs and other structured finance transactions, and environmental matters in business transactions. Each year, he handles tens of billions of dollars of Ginnie Mae, Freddie Mac, and Fannie Mae securities offerings on behalf of underwriters, including leading the firm's team on Ginnie Mae REMIC transactions. In 2018 to date, Beau has worked on over $40 billion of mortgage-backed securities. In other categories of structured finance, he is a key member of the firm's team advising arrangers of collateralized loan obligations (CLOs), having represented Citigroup, Credit Suisse, Goldman Sachs, and Nomura on billions of dollars of CLO issuance since 2012. Beau has provided environmental advice to Stanley Black & Decker in the $725 million sale of the majority of its mechanical security businesses to dormakaba; McCormick & Company in its $4.2 billion acquisition of Reckitt Benckiser Group's food business; Grupo Bimbo in its $650 million acquisition of East Balt Bakeries; Takeda Pharmaceutical Company in its $5.2 billion acquisition of ARIAD Pharmaceuticals; Tech Data Corporation in its $2.6 billion acquisition of the technology solutions business of Avnet, Inc.; L'Air Liquide in its acquisition of Airgas; and Henkel in its acquisition of The Sun Products Corporation. Beau joined the firm in 2010.